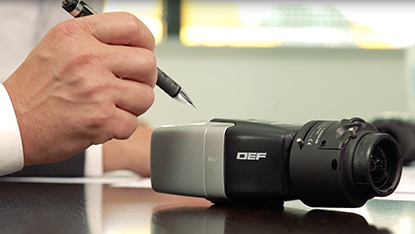 Video detection
In locations with high ceilings, the temperature differences between the cooler area towards the floor, hot smoke cooling as it rises in the room and, potentially, the cushion of hot air generated under the roof by the sun, all combine to create the phenomenon of smoke stratification, which can nullify classic electronic detection methods.
Likewise, spaces which are ventilated or very brightly lit can disrupt traditional localised, aspirating or linear detectors.
However, there are still hazards in those restrictive environments. In those cases, image-based fire detection, connected to a fire safety system, is all the more meaningful.
As a supplement to Category A fire safety systems, which are recommended by insurance companies, DEF suggests adding video-based fire detection for these kinds of complex sites.
A successful combination of legacy technology for detecting objects and fire, DEF Fire Eye is a system made up of smart cameras with embedded algorithms that are capable of detecting smoke and flames in these specific environments, which overcomes the phenomenon of stratification.
DEF Fire Eye is particularly well suited to monitoring relatively spacious, open or semi-open areas. When paired with a wide range of sealed, heated and ventilated chambers, fitted with blown air or that have explosive atmospheres, this solution can be installed in even the most challenging sites.