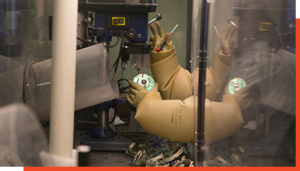 Removal of ionic detectors
Removal of ionic detectors
Within a context of the gradual replacement of ionic detectors, as required by the French interministerial decrees of 18 November 2011 and 6 March 2012, the dismantling and removal of ionic detectors must be carried out in accordance with regulatory obligations relating to radiation protection and environmental protection (regional constraints for classified facilities with prefectural operating authorisation and constraints imposed by the French Nuclear Safety Authority (ASN)) and require that a certificate of removal be issued.
The transport and handling of this kind of detector are also strictly regulated by ASN.
ASN authorisation no. F410004 gives DEF permission to provide all of these dismantling, removal, transport and handling services for ionic detectors.